Interview with Daniel on Footballtop
Today we have an interview with Daniel. The guy behind Footballtop.
Introduction
Hi, my name is Daniel and I'm from Poland. I've been interested in browser games for over 10 years. I've played various soccer managers. I have my favorites, but I always missed something. Very often it was a lack of contact with the support. At Footballtop, we place great emphasis on talking to the user, because he creates this game while playing. You play, you develop the team, you create a field for a better game for others. Thanks to the support activity, the game is alive.
How did you start in game development?
About myself I can say that I am not a programmer. From an early age, I dreamed of having my own website, forum, I never dreamed of having my own browser game. The idea for a footballtop was born by chance. I was looking for some springboard that I could play alone or with a few friends. And so it started. I didn't have much experience with PHP and Mysql but there was always something to improve in footballtop and so I started learning to program and add modifications. We create the game with a friend whom I met while playing another online manager. The game is completely free, has premium modules, but everything can be earned by playing actively.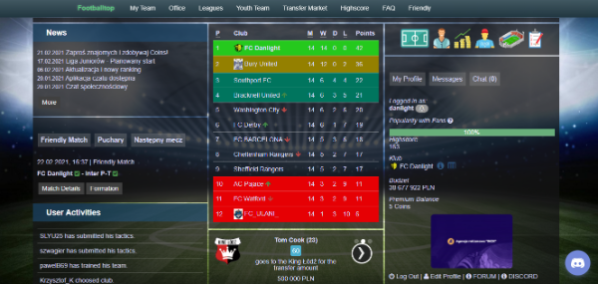 I make all the modifications myself, but because I am not a professional, I can say that I am crawling with it. Often, when I didn't know the code, I searched blindly, it took a long time.
The footballtop script is a heavily modified version of the HSE-Websoccer. I found the code for this game on github. I turned it on and this is how my adventure began. From translation into Polish to various modifications. I was captivated by the possibility of free expansion in the script. The script is very expandable.
Does footballtop have shortcomings?
Yes, it cannot be avoided but it gives a reason to constantly work on improving the code. Sometimes it happens that a problem opens the door to something better. For example, the last problem with playing 1 day in a friendly match opened the door to modification of the training and scouting cycle. Our problem was that it was possible to do the training once every 24 hours, i.e. when you did the training session at 5:00 PM on Tuesday, you could do the next workout only at 5:00 PM on Wednesday. Scouting did the same. We changed it so that the game allows you to perform an activity once a day, regardless of the time it was performed. As a result, we do not have to keep an eye on the time of performing a given activity (training, scouting, friendly match). It was a big problem. Since footballtop started, a lot of things have changed and it's really hard to put it all together. But in short it was:
A new system of player values

The ability to add strength to the junior

Tickets from a friendly match are shared 50/50

Referrals system

Modification of junior judging after the match

New match comments with pictures

Junior salary

The possibility of removing a player from the transfer market

Adding trainers' achievements

Modification of the fan satisfaction system
And probably the last very important modification of the day / night mode - it allows you to change the color of the graphic design.
How big is the user base?
We currently play in 8 international leagues so that it is easy to create international cups. I think it's a cool solution. It gives the opportunity to confront the best teams from individual leagues on the international arena. In the national leagues we have 2 leagues: 1st league and 2nd league. The teams from places 1-4 play in the cups. We also have a national cup for each league. I think we fill all the gaps by allowing the coaches to compete freely. Currently, the active user is about 40%. We want the leagues to be at least 50% full with users. Now this proportion is disturbed. The Polish league is full of coaches and in the French league maybe 2-3 coaches. Unfortunately, the glory days of browser games are over. Besides, you have to like a game like that and get involved. I haven't mentioned one important aspect of this game yet, namely - you can lose your club! How? It is enough that the user is inactive for over a month and the system releases the coach from the club. Doing so avoids "ghost" clubs that lose all matches and disrupt healthy competition.
We have a forum and a group on discord where we are very active. And where we cordially invite everyone.
0

comments on

"Interview with Daniel on Footballtop"