Interview with Josh about Mafia Omerta
Dive into the story of Josh about the start and running of Mafia Omerta.
Who is Josh?
Hello my name is Josh, I am married and have two sons. I took a couple basic programming courses in college but nothing game related. I started ten years ago and has been a side project of mine that I have been pushing to become a full time thing. I grew up playing a couple different Mafia themed games that died out. So that is the basic reason for creating Mafia Omerta. Inspiration can come from any game, I have played games all my life. I always try to take elements of video/mobile/browser that I found fun and find a way to incorporate that concept into MO. Right now I don't play too many games anymore due to full time job, family and then working on Mafia Omerta. I mostly play mine but if I am taking the night off and playing a game to decompress its CoD Warzone.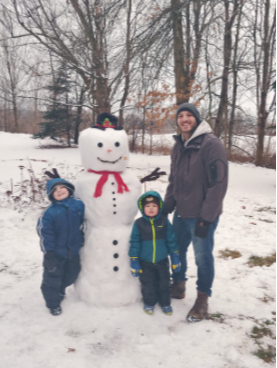 For Mafia Omerta I am a one man band. I do everything myself. I am still expanding on my skills to get better in all the aspects. I do the design, game play, and graphic design. Nothing is outsourced.
The biggest issue with that is that I'm self-taught and have a lot to learn and do but no time to do it all. Not easy to work on this after the kids are in bed for a couple hours before I go to bed to get up for work the next day. I work on it as much as I can, majority of my free time is spent on the game. The game needs to grow in several avenues but I can only work on one thing at a time.
I would love to be able to expand, but far from being able to hire anyone. A goal of mine is to be able to have a team to work on this game and future games. My skills are mostly self-taught and beginner level. I still have a lot to learn and improve on. When I can eventually expand my goal is to have it be a place of employment that people are proud to say they work for. Create a culture that allows for creative flow, zero stress, and overall a place that is enjoyable.
How did Mafia Omerta start for you?
Mafia Omerta is my first game I have ever made.
I was working in a small Paintball office for sales and customer service. I was a customer service rep for the Midwest of the USA. A game I was playing at the time was about to come to an end. A fellow customer service rep was going to school for website development and had several sites he had created already. I showed him the game one day and asked how would I start to make a game like that. He gave me a book, showed me a helpful website and showed me the basics on how to create a website. The rest has all been learned through searching online for questions. The site when I first started ran off of one of his servers he had and he named the game MafiaBox.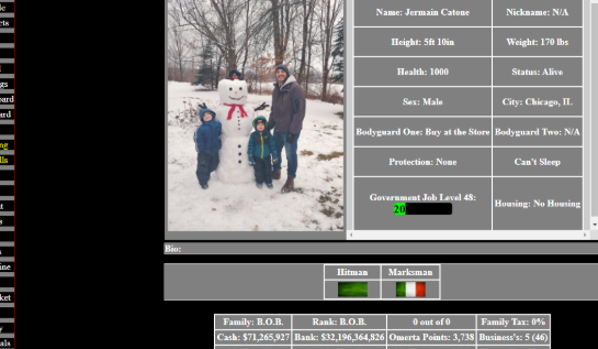 How would you describe Mafia Omerta?
Mafia Omerta is a Mafia themed text base browser game. Where you create a character and try and move up the ranks in a Mafia family. Competing against other families for power and position in the cities of the game. It is a simple but addicting game to play. It does not require a lot of time to play to enjoy, can get the basics done in 5-10mins each day. So when life gets hectic can still accomplish the basic needs in a small window of time and if you miss some time it's not crippling.
The game currently has 20 players. Communication is done through game mail, private family board, or a message board for all players. Currently developing an instant messaging system to help make communication even easier and fluid.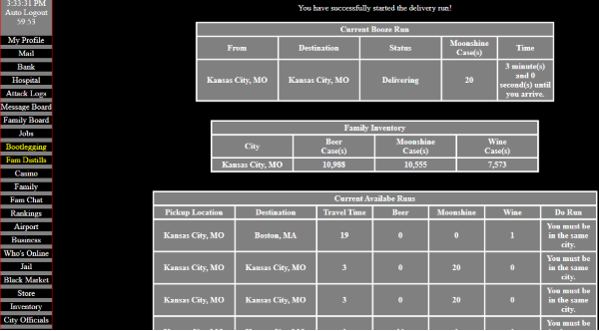 The most unique thing about my game is that the most important thing to me is a well balanced fun game. It is not about money first like every other game out there. All the things a player can purchase in the game are cosmetic features or quality of life improvements. Can't buy your way to be richer, or stronger. I think I am pretty unique myself, I thoroughly enjoy creating this game and constantly working on improvements. I don't think there is many admin out there that do what I do. I try and get to know everyone that plays the game and am approachable in many ways. I create tutorial videos on youtube, and before the summer did weekly update videos going over what was released, what's being worked on and what is to come. Also operate a discord server for the game to have another avenue of communication and fun. Mafia Omerta is like a baby to me. I have a specific RP feature on the message boards where myself or a moderator engage with a player(s) and tell a story back and forth with results determined by the players stats. It creates another avenue to live up to that characters persona in a fun way.
Any funny stories to share?
There was a war between two families. The consigliere for the one family was extremely active and deadly. He was a major threat for the other family and for them to win needed him whacked. The one family sent over their Consigliere to take the risk and try and take him out before he knew what was happening. It was a success they whacked him and were bale to get back to their turf safely. It was later revealed that he stepped away from his computer to go make a sandwich unknown to the attacking family that he wasn't at his computer when they were going to attack him. This kill has been dubbed the Sandwich kill and gets brought up from time to time.
Any plans?
So much is planned. I have released a big update on October 1st. It is a fun feature that focuses on bootlegging taking place during the prohibition era. It released some fun activity to give players more to do, spend their stock piles of cash on and create a competitive feature for the families to try and fight over the number one spot. Then finishing the instant messenger feature are the next two updates coming to the game. So much more is planned. Getting back to having fun side events each month starting back in December with a Capture the Boss Ring (flag) themed event. Basically whatever is deemed the highest priority is where I focus my time. Always looking for things to improve upon or add to the game.
Did Josh get you interested in Mafia Omerta?
4

comments on

"Interview with Josh about Mafia Omerta"
Michael Gamero
November 26, 2021 at 03:47 pm
The game itself is great if you're into the very old school look and feels of games from the mid 2000's. Josh does do a lot of work on the game, and listens to his player base a lot. He's not only put his time and effort into the game, but he's put his heart and soul into it. I've known him since CW, and he's a very honorable guy. If he says he's gonna do something, then he's gonna do it.

If you want to play a game that actually helps the new players out, and doesn't give players an unfair advantage over you by spending real money, then this is the game for you. I highly recommend anyone who is a fan of Cosa Nostra, to actually check this game out and give it a chance. It may take you a little while to understand the core gameplay, as it's not your regular run of the mill mafia game. But, that's what makes this particular game unique and fun, as it doesn't feel like it's just another cookie cutter mafia game out there.
Unknown
November 24, 2021 at 04:47 pm
I just checked again.
Website still not https for me, and i play many other games in my browser who all are :/
MafiaOmerta
November 30, 2021 at 12:10 pm
The link has now been fixed. :)
MafiaOmerta
November 24, 2021 at 07:12 pm
Thank you for sharing your struggles finding the secured link. I have contacted admin about updating my link to the current one. For anyone else the correct link is https://mafiaomerta.com
Ronald G Moore
November 23, 2021 at 10:39 pm
I am a long time player. I had to chuckle about the sandwich kill. It was in Round 4 if I remember correctly. Josh was the Don of the family (Anthony Loretto) that got the kill, and I was the guy who played the Consig (Michael Corleone) who became the sandwich kill. His family had NYC as its base, and my family controlled Boston. So the players on my side will remind me that I went to Boston to get a sandwich as reference to that event. It is a close-knit community and many have played for years and seen the game develop significantly over that time. Many changes I liked, others no so much but that is true with almost anything.

One thing that Josh does is receive input from the players on change ideas. The game has evolved based on player requested changes. There are many roles in the game and I have played them all. Every role has unique things to do and that is a positive attribute. Other games do not have that. His game has 2 unique features. The first is that you cannot buy additional attacks or stats to gain an advantage over rivals. One can only do that by working your character. The second is the sleep feature. Once can use it on their own turf as to ward off pests that may visit for a period of 8 hours when they are not playing.
Unknown
November 23, 2021 at 04:28 pm
I read the interview, and having played tons of similar games as MO, i decided to visit the website, and give the game a try.

The very first thing i see, is that the website isn't httpS. (Not a secure link)

I recommend fixing this, and if you do, i will give the game a try.
MafiaOmerta
November 24, 2021 at 04:05 am
I am happy you checked out the game, the game is secure. Not sure what happened when you checked it out that it wasnt showing secure. Sometimes if the host is making an update the secure is not displayed. Hope to see you!