Interview with Steve about Broken Bat
In this interview, Steve takes us on his journey with Broken Bat.
Who is Steve?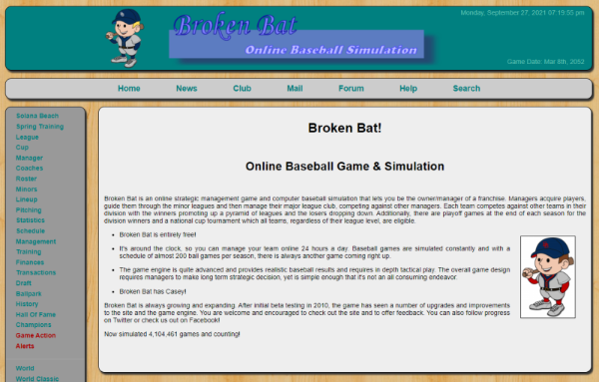 My name is Steve and I live and work in San Diego. Writing browser-based sports games is a hobby, I have a real job as a firmware engineer. I was inspired to write the game after joining Hattrick more than 15 years ago. I've played a lot of different sports-related games, but am mostly focused on game development and improving my current games.
ANYBODY ELSE IN THE TEAM?
It's just me. It started as a sideline project back in 2009 and has grown from there.
I've written all the code. Actually, twelve years ago when I started Broken Bat, I didn't really know PHP or mySQL or JavaScript so it's been a real learning experience.
Previously, I had a Pascal (and later C) based baseball simulation that I had written as far back as high school. Eventually I took much of the core game engine ideas and functions and put a browser user interface on the web and Broken Bat was born.
Broken Bat was the first web-based game I have created. I have since created a similar college basketball game called Hardwood Online College Basketball.
Prior to web-based games, I had a lot of experience writing sports and engineering simulations — so porting some of these ideas to a browser-based game was the real gain-of-function.
What is Broken Bat?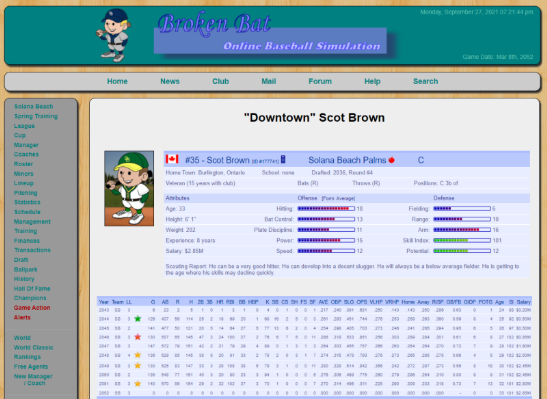 It's like being in charge of your own baseball team. You have to draft prospects, develop them into big league players and then manage them in the games. If you're successful, you can win your league and move up. But it's tricky — you can't just focus on offense and neglect pitching and defense or vice versa.
It's an entirely free game and a lot of the players have made a variety of other contributions — like creating team logos, compiling minor league city names to creating a podcast and Broken Bat radio.
Currently 500+ people play the game. Players can communicate either via in-game mail or the discussion forums.
There aren't too many other baseball simulations out there (soccer is a far more popular sport worldwide and among browser games).
But I think the simulation accuracy, balance and playability is by far the best. It's a hard game — having a team for a long time doesn't guarantee you a spot in the top league. Managers need to draft, develop and manage their club well to move up and succeed.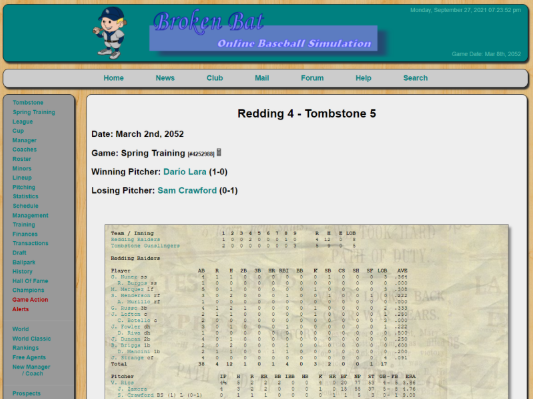 The biggest challenge is to create a simulation that is both playable, but also true to the game of baseball. If all the players are .400 hitters or there is some Goliath that hits 100 dingers such that his team never loses, then that's not a realistic or playable game. So many sports simulation lack balance and realism. Statistics in Broken Bat are much closer to real world statistics that other game models. Game scores are realistic and competitive balance is much better than most other games.
What is the hardest part of being an admin for Broken Bat?
The user base of Broken Bat is fairly diverse. Some people are hardcore players while others are more casual users. Also there are people across all age ranges. Trying to provide a game that meets the needs of all these individuals is probably the biggest challenge.
I also think the game is starting to show its age. A lot has changed about the internet in the last twelve years and technology has progressed. I'd really like to overhaul the user interface so it looks more current, but that will be a large effort.
Any funny stories to share?
This isn't really a funny story — but perhaps the most personally gratifying episode in Broken Bat history is when a blind individual contacted me because his screen reader couldn't parse the baseball box score page. So I worked with him to re-layout the box score formatting in HTML so that he was able to read those pages. It was both fulfilling and I also learned a lot about web accessibility.
Interested in Baseball? Check out Broken Bat.
2

comments on

"Interview with Steve about Broken Bat"
Wickersty
October 13, 2021 at 03:19 pm
Three cheers for Broken Bat. It's by far the best baseball simulation on the web and an absolute joy to play. I second Steve's comments: it's hard, and it takes time to succeed, but it also takes luck and smart management decisions. Great community too.

Loved reading about that screen reader story, I didnt know about that. That's awesome, and a testament to the kind of guy Steve is, in my opinion.
Ray Rolland
October 12, 2021 at 08:14 pm
Thank you Steve for creating Broken Bat. It is the most realistic baseball simulation out there. If you think you have what it takes to be a baseball team owner then this game is for you .There is no easy way to make it to the top . to most Baseball fans this is the ultimate challenge. Thank you Steve I've enjoyed 15 seasons so far. almost 5 seasons in one of our years and i enjoy watching most games not just looking at the box scores.