The Open League
We have a chat with Kote, the developer behind The Open League (TOL).
Who is Kote?
My name is Kote. I live in Los Angeles with my beautiful wife and two daughters. I started game development about two years ago after a career advising big corporations. I have no background in making games which has made the adventure quite fun, and challenging - but mostly fun. That said, I've been a FIFA and Football Manager gamer for as long as I can remember and a fan of the sport since I was a kid.
Football Manager was the obvious inspiration for The Open League (TOL). I wanted to create a simple version of this incredible game which I could play with friends, even those who don't have much time and/or don't know a whole lot about Football. TOL also borrows from Dungeon & Dragons in some ways - we're setting up a stage and letting imagination work its magic. I'm also fascinated by the idea of mixing reality and fiction, which is how we decided to use Discord and bots, along with our browser app, as interfaces - using real-life communications platforms to play TOL.
I don't have a ton of time to play games these days as much of my free time is spent either playing TOL, building TOL, or taking my kids around town to play football (or soccer as they call it here). I do power up FM and FIFA once in a while though and also have been playing a lot of different text-based football games recently.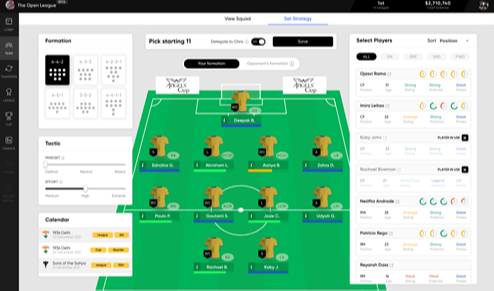 What is The Open League in short?
The Open League is like playing fantasy football but matches are played every night and you have more control over your destiny (i.e., you can set a strategy for your team, negotiate transfers, etc.)
Who is behind The Open League?
We have an awesome team supporting TOL. Two developers, a designer and a group of loyal testers who are helping us make TOL better, day after day. I'm so thankful for this group. We're distributed around the world but talk to each other almost daily.
Maysara is in charge of everything back-end. He is also the father of our two bots, Claire and Chris. Sergiy is our front-end master. Making our designs work flawlessly. Miguel is our awesome designer. He's somehow able to convert my crappy design ideas into brilliant ones. Bruno is helping increase our online presence in places like NewRPG - and doing a great job at it Benny is helping moderate our active Discord community.
And then we have a number of users/testers helping us come up with new features.
The common theme is we are all football fans. Deep inside we have a true, burning passion for the beautiful game.
Finally, I play a coordination role between our technical masterminds and our community - taking ideas, prioritizing them, and turning them into requirements our team can act on. I'm also in charge of game analytics (i.e. understanding who our users are, how they engage, etc.) and the boring business side (e.g., accounting, operations, etc.)
We don't outsource anything for TOL.
Our team had no experience making games before TOL. I like to think that this is in part why our game feels different. This lack of experience also created a lot of reworks on issues a seasoned game designer would probably have avoided. Thankfully we also have a few people deeply involved in gaming who have been advising us along the way and I don't think we are completely off track, at least not anymore!
How did The Open League start?

In April 2020 I sent an SMS to a friend saying I had a startup idea I wanted to run by him. I texted him again after an hour from a burner cell phone saying "Hey welcome to South Bay FC!! Excited to have you as our manager. I'm Chris, your assistant. Here to help. In any case, looking forward to seeing you Monday for the first practice!" My friend was very confused and replied it was a mistake. After "Chris" insisted, he understood it was me testing my idea. We ended up recruiting two more managers this way and I ran TOL for two months using SMS texts and spreadsheets, and live-tweeting matches on Saturdays. I realized people liked this format when we paused the test and received texts like this one.
What makes The Open League unique?
It's really hard to be unique in the football management genre because there are so many awesome games out there! That said, I believe TOL to be the most community-oriented game in the genre in part because it is built with deep integrations with Discord - many parts of the game only happen in Discord. For example, we live-stream matches in Discord channels and our managers comment on GIFs, etc.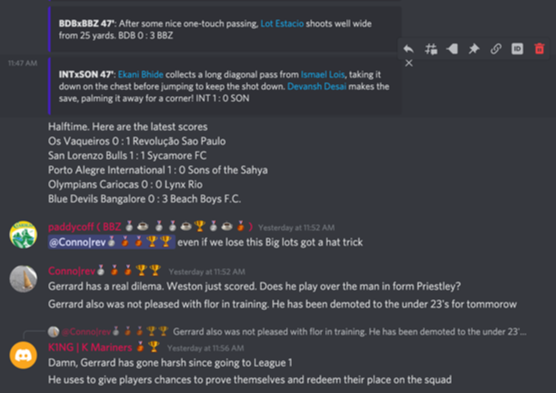 From that perspective our matches are quite lively, especially towards the end of the season when promotions and demotions are on the line. Another example is we don't have a notification system in our web app - instead you are notified by Chris, your assistant, via DM in Discord or the information is streamed in our #newsfeed channel, for all to read about and comment on!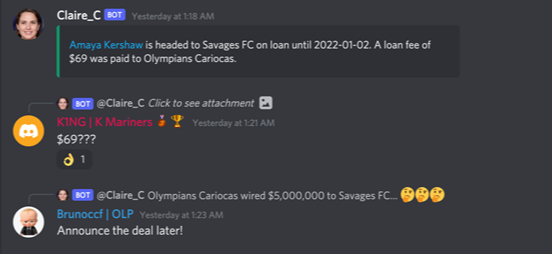 So now about the hard parts!
TOL is always on. Matches are played daily in different time zones, players develop all the time, transfers are negotiated and completed, it's a never ending symphony. People are passionate about the teams they have been building for months - so when a bug comes up that messes up the competition, feelings can flare up. Thankfully our users are very understanding (as we are still officially in beta) and our code is now quite stable.
The biggest issue we had so far messed up our youth camp for our European server. Every three weeks, between seasons, each league holds a youth camp where top young prospects can be scouted by teams. Camp is sacred because it is where teams in lower leagues are able to re-build a competitive squad. A few seasons ago we managed to screw up youth camp two seasons in a row and had to run player drafts manually using spreadsheets while at the same time figuring out what was going on. The second time camp broke I remember stepping away from the computer thinking "I'm done with TOL"... I was back at it the next hour with a plan to save camp once more…
How big is your player base?
We have deliberately limited our players to 60 for now. We're still testing / changing features all the time and we want to make sure we have our formula right before expanding our universe to more people. That said, we will be adding 30 teams before year-end and will keep adding more teams over the next 6 months. We're excited to open the doors to more people so we can get more feedback and, hopefully, entertain more football fans.
What is the hardest part of being an admin for The Open League? Any funny stories to share?
It's hard to stay on top of everything going on in TOL. I used to be able to read every single message on our server to make sure everything is running fine and/or someone hasn't found a loophole but with 1000-1500 daily messages it's now impossible. It turns out our managers are quite good at regulating themselves though - they'll flag it to us if someone is going out of their way to be unkind or questionable player transfers are happening.
There are a number of funny stories that are now part of the TOL lore. Like the time a few teams, in an effort to sign legendary player Leon Lepoux, offered him a salary so high it eventually bankrupt them.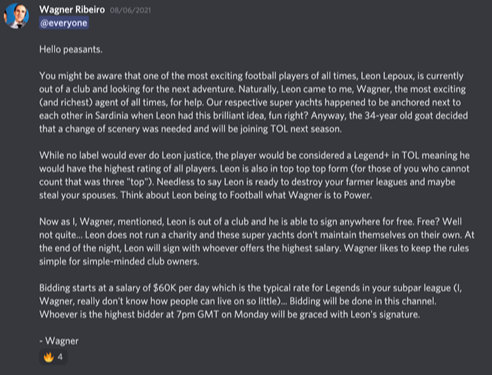 Any future plans?
Our focus for the next few months is developing richer players - making their lives less linear and more sensational to give users more opportunities to make decisions on how to manage their squad. With our focus on community gaming, we're putting a unique spin on how this all works though as we have no interest in building something that was done 500 times before. The next big item on our to-do list will be expanding our match engine to be able to make changes during matches including interacting with players on the pitch.
Did Kote give you an itch for playing soccer? Check out The Open League (TOL).
2

comments on

"The Open League"
K1NG
February 08, 2022 at 11:47 am
I have been playing TOL for over 3 months now and I can safely say I have a vested interest in my teams success in the league. My team is nearly in the top tier of the open league after starting in the bottom tier. The game's focus on community and manager interaction helps TOL be very unique in it's offering to the players. I can definitely say that I am here to stay.
K1NG
February 08, 2022 at 11:43 am
I have been playing TOL for over 3 Months now and have had a lot of fun. The game is very unique in the fact that it is focused on Community and the daily games ensure that you won't lose interest easily. I can safely say I have a vested interest in my team and seeing as we are close to reaching the top tier of the open league, this is only the start.