Zaalah talks Trounced
We talk to Zaalah from Cardboard Machete about the newly released game Trounced.
Who is Cardboard Machete?
Right now it's just me! I'm hoping to expand the team in the future, the idea of having a small team of other game designers is a dream I've had for a while. But for now, it's a small indie studio that focuses on creating fun browser-based games that center around long-term progression.
What is Trounced?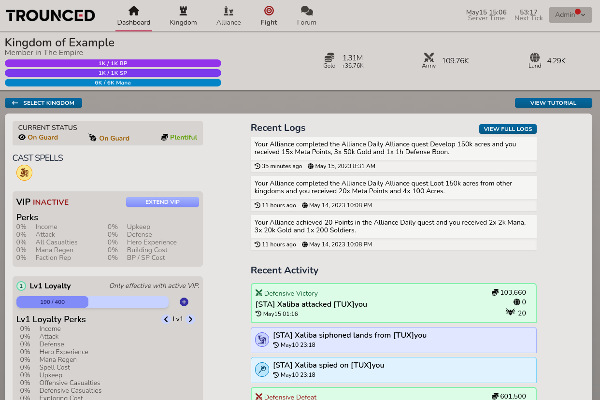 Trounced is a fun and simplistic kingdom builder that puts you in charge of a unique hero and their kingdom. You'll work alongside other players in your alliance to grow your kingdom, increase your power, and protect yourselves against enemies. What's really cool about Trounced is that it's a diplomatic game with a wide variety of pacts and treaties that alliances and kingdoms can make with one another. So, whether you're a solo player or someone who likes to team up with others, there's plenty of fun and strategy to be had.
What makes Trounced unique?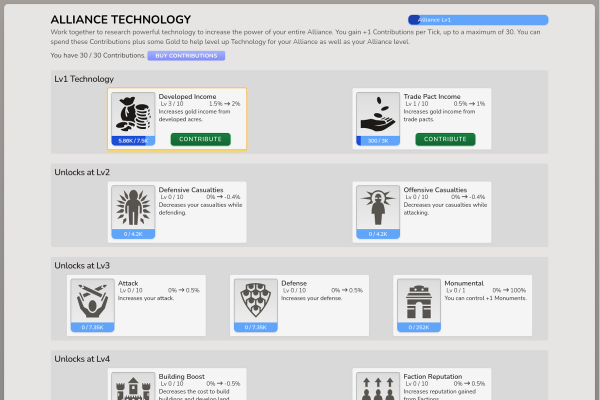 What sets Trounced apart from other kingdom builders is that it respects your time. In a lot of similar games, you have to be constantly checking in to make sure your kingdom is safe, but in Trounced, I've put several safeguards in place to prevent you from waking up to a dead kingdom. You can rest easy knowing that your kingdom will still be there when you return.
Another thing that makes Trounced unique is its simplicity. I really wanted to focus on the interactions and the fun, rather than complex math and unit interactions. The game is easy to learn, but difficult to master, which makes it accessible for players of all skill levels. So whether you're a seasoned veteran of the genre or a newcomer, there's something for you.
What's your background?
My background is in software development, which I've been doing for about five years now. I've been making games for four of those years, and it's been a real passion of mine ever since I was a kid. In fact, wanting to make games is what got me into development in the first place.
What advice do you have for other developers?
My advice to other developers would be to just get started! When I was working on my first game, I was constantly stopping and starting, worried that I was going to make a big mistake. But the truth is, making mistakes is all part of the learning process. Game development is all about trial and error, and you're not going to get it right the first time. So my advice would be to just jump in and start experimenting. You'll learn a lot more by doing than by sitting on the sidelines, and who knows - you might just surprise yourself with what you're capable of!
What has been the most enjoyable part of working on Trounced?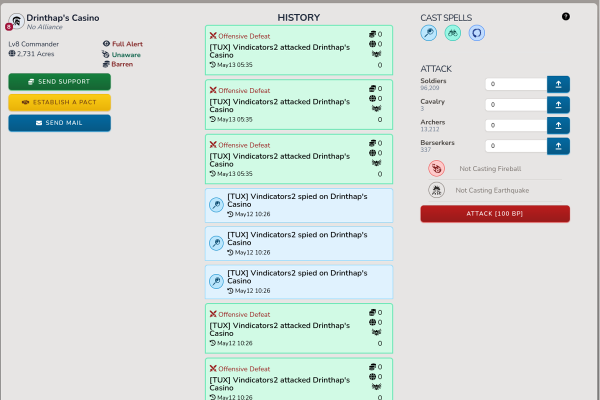 There have been a lot of enjoyable parts about working on Trounced, but I'd say the most satisfying one has been applying the lessons I learned from working on my first game, Elethor. It feels like a huge step forward, and it's been really cool to see how far I've come as a game dev.
Another thing that's been really rewarding is getting to design a PvP game. It's been a unique challenge, and it's been really satisfying to see players engaging with each other and strategizing against their opponents. It's always fun to see people playing and enjoying the game you've created, and the PvP aspect of Trounced has definitely been a highlight for me.
What is up next?
I'm really excited about what's next for Trounced! One thing I'm working on is introducing new and unique realms for players to enjoy. While the standard realm of Trounced is ongoing and never resets, players will be able to simultaneously play in other short-term realms with their own special win conditions and unique sets of rules. I'm hoping that this will add a new level of excitement and variety to the game, and I can't wait to see how players respond to it.
Thanks so much for checking out the interview! If you have any questions or want to engage in a conversation about anything game-dev, reach out to me on Discord at Zaalah#3857.
We'd like to thank Zaalah for taking the time to do this interview and hope everyone heads over to check out Trounced.
1

comments on

"Zaalah talks Trounced"
Jarles
May 22, 2023 at 01:29 am
Zaalah is a hardworking & passionate developer, who is open to feedback!

He has now managed to develop 2 games, and when it comes to Trounced, there definitely is a good amount of potential!