Strategy browser games that support mobiles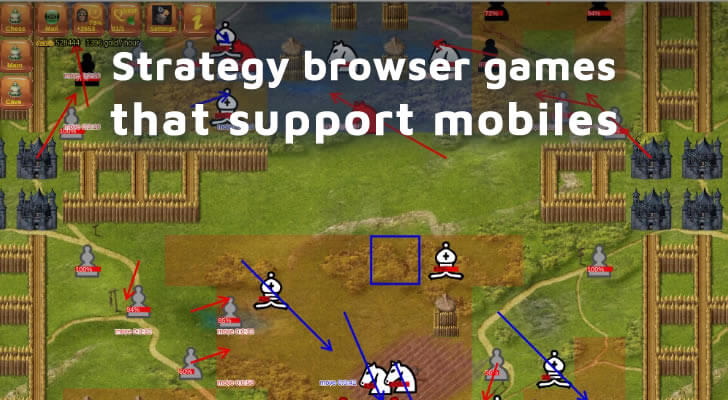 Browser games overall tend to forget the mobile users, especially in strategy category. It's a must-have feature to maximize user experience. Sure, maybe you play it 99% from your PC, but sometimes you need to send an attack or defend yourself when you're at a bus station for example. When the game doesn't support mobiles, then it will rather make it frustrating. So to save your the trip of having the test each strategy browser game to see if they support mobiles, here's the TOP 5 games that do support mobiles.

1) ArmyGrid
ArmyGrid compared to most TBBG is a rather unique one that includes a map builder, chess and real time strategy aspects. Move chess pieces across the map to conquer and expand. Also make sure to check Virgin Games promo code 2018 for more gaming fun. In order to protect your existing territory, upgrade defense towers and walls. Whole game is based on gold, which can get your armies, buildings and upgrades. Real-time turn-based PVP. Cross-browser support using minimal internet resources.

2) Crown of the Gods
Crown of the Gods is a real-time strategy MMO. Mostly involving your resources, dungeons, sieges, continents, portals and much more. This is not a Pay to Win game. You can build empires and enjoy the real-time combat system. Trading system, lots of different troops and buildings available for your empire. Official launch date of CotG was 2015.

3) Browser Dota
Browser Dota is a turn based RPG-like real-time browser game inspired by Valve's famous Dota 2 game elements. In this strategic multiplayer game, your objective is to make the strongest hero by reaching the highest level during a match which lasts a week. Each hero has a combination of different skills and items that are put to the test in various battles, or 'ganks', in which the outcome depends on who has the best combination, or 'build'. There are over 50 different skills, over 40 different items and 3 main attribute to choose from: Agility, Strength and Intelligence, each with its strengths and weaknesses.

4) Roboid
Roboid is currently in a beta state. Responsive design, meaning that it is mobile friendly, including tablets. No large images that could slow down loading time. Simple tick/time-based strategy role playing game. Engaging player community. Progressive mission system and a rich world and story. Player vs Player robot combat functionality. Appropriate for all ages and both genders. Earn money, train your own unique Roboid!

5) Hyperiums
Hyperiums is an online strategy game where you can also enjoy space battling. The game includes a fascinating technology tree where you can see technologies, their costs, needs and what a certain technology brings. In Hyperiums you can own planets, but you can also deploy your fleet or army on foreign planets. Feudal system allows you to become lord or vassal, but it's only possible after 16 days for non-protected cluster and after 32 days for protected cluster.
0

comments on

"Strategy browser games that support mobiles"